It seems this might be somewhat of a strange question to ask but ..... are these leather goods, genuine leather? The tag states "leather" ??? doesn't that mean authentic, genuine cowhide leather?
There are huge differences in leather products.just because the tag or label says genuine leather' or leather product, does not mean what you think it means! For many reasons & marketing purposes, merchandise labels & tags can be marked as 'real' leather, however are not really. In an effort to sidestep less appealing terminology, as well as some not so truthful wording, 'real' leather may not be genuine or authentic cowhide. we will elaborate and explain.
You see, leather can be labeled "leather" if it is genuine or fake. some examples of genuine leather product labels may have any of the following terms; full grain, corrected grain, top grain, split grain, choice grain, compressed leather parts or pieced leather. or in the case of fake or only having a part genuine leather, you could see some of these deceptive terms; leather product, pu leather (which is synthetic, man made leather looking material), synthetic, faux leather, & artificial leather, genuine man made leather .... the list can go on & on. so don't be fooled! Read on for a few pointers before shopping. This short read will arm you with some valuable information.
Although learning how leather grading is done and how the leather tanneries work, is a fascinating subject, the only important point you need to know as a consumer is just a few basics! By remembering a few tips before shopping, you can avoid over paying for inferior or imitation leather goods. thus you should always ask; 'is this leather really leather'? Since we now know, "leather" doesn't always mean genuine, authentic cowhide leather!
Inspect the product
Where was it made?
Many countries around the world are well known for their fair trade practices, ethical planet & harvesting practices as well as those countries who are well versed in the art of deception & false representations! Always check the retailers return policies. Does the retailer offer 100% customer satisfaction? Does the seller stand by its product after the sale has been transacted?
Is it hand stitched or hand assisted by machine stitched? does it appear to have individual stitches? or does it look to be sown with one long, continuous thread? is it top stitched, double stitched and does it have an age worthy thread type?
Sown by hand or hand assisted sowing is best! However, if the sowing is done solely by machine, having long continuous stitching, that's considered mass produced. The problem with this method of sowing is, if one stitch pops, the entire row of stitching will shortly thereafter unravel as well. inquire about thread type. Cheap thread will not stand the test of time. Nylon, poly & waxed threads are the most durable. You can have an authentic leather bag but if the thread is not quality, your beautiful handbag will fall apart.
Give it the smell test & a good eyeballing
Does it smell like cowhide? Does it feel like natural cowhide? is it smooth, soft & supple? does it look or feel like plastic or as if there is some sort of coating on it? Does the leather appear to have natural marking representative of its authenticity? Does it appear to have natural flaws or does it appear too perfect for the price? made by machine of synthetic materials will look just as the one sitting beside the piece you are inspecting. 'perfect'.
Remember, quality & price point should be proportionate. faux & reproduction products should be matched with a much lower price point. The item will look like a carbon copy of the piece right next to it. Genuine or natural leather hide products always have imperfections such as animal scars or other natural signs of being genuine . .... Unless of course, you are purchasing a 'Prada' handbag or 'channel' wallet! The hides used for super high end labels are rare, rated 'off the chart', a++++ (and an excellent example of being equal in quality & price)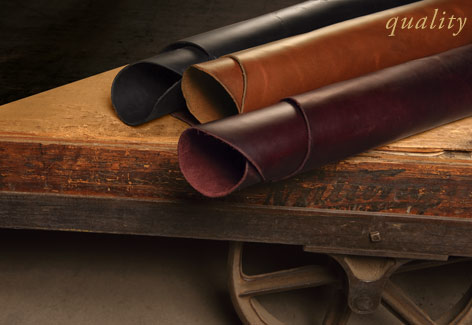 AUTHENTIC TOP GRAIN ARGENTINEAN COWHIDE